Severe Rain Storms
Prepare for heavy rain, Flash floods and other elements caused by severe rain storms. Severe rain storms can happen anytime, in any part of the country. Too much rain in a short period of time can be a reason to worry. By the time a severe rain storm (Flash Flooding) happens, it's already too late. Not all floods are the same. Some develop over time; however, flash floods happen quickly, and amazingly can occur without visible signs of rain. It is important to have a plan and to stay safe.
According to FEMA, everybody's at risk. You may not live in an area of the country that is prone to heavy rains, but changing weather patterns have been sending surprises to people who thought they were safe. So even if you live on high ground, it's in your best interest to do everything you can to prevent flood damage due to a heavy rain.
Here are some guidelines that can help you and your family stay safe and help you protect your property if the unexpected happens.

What can you do to prepare and keep you and your family safe?
You should prepare the same for every season, regardless of how much activity is predicted.
Before Severe Rain Storms, You Need To Prepare.
To prepare, you should take the following measures:
Know your properties flood zone risk

Have your furnace, water heater and other permanent equipment elevated above the expected flood levels of your area.

Inspect sump pumps and drains regularly to ensure proper operation.

If you own a generator, have a licensed electrician provide a transfer switch to your sump pump so you can operate it in the event of flooding.

To help prevent sewage backup, have a licensed plumber install an interior or exterior backflow prevention valve.

Keep sandbags on hand to help divert unusually high water away from your foundation

Clean out gutters, storm drains, etc. (keeping drains clear of trash, leaves and branches) so rainwaters can easily flow, reducing possible flooding and ponding.

Stay at home as severe weather arrives.

Have flashlights and extra batteries, a battery-powered and/or hand-crank radio in case power goes out.

Have a communications plan. Make sure all family members understand who to call if you get separated.

Plan and practice an evacuation route. Designate a place for family members to meet in the event they become separated.

Have essential items on hand to last at least three days — non-perishable food, water, first-aid kit, medication. Have enough for each person in your household.

Learn the flood alert signals of your community.

Collect emergency building materials if you live in a frequently flooded area. These may include plywood, plastic sheeting, lumber, nails, shovels and sandbags.

When driving, always be aware that the road bed under flood waters may be severely damaged. NEVER drive through flooded roadways. Remember that it takes only two feet of water to carry away a vehicle, including pickups and SUVs.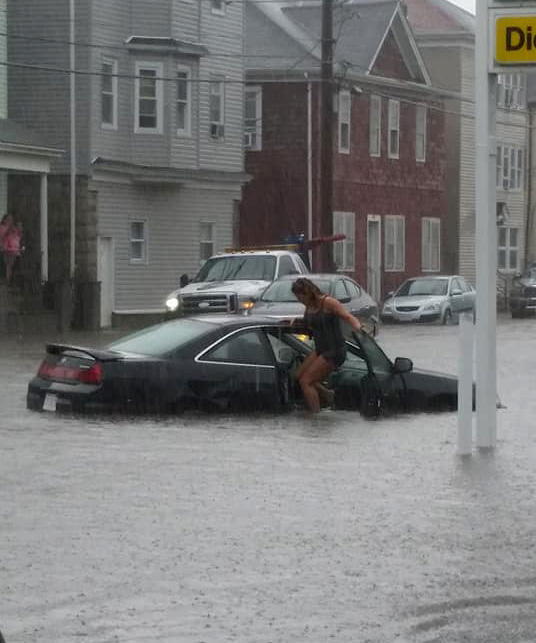 When walking, do not attempt to cross flowing streams. Remember that it takes only six inches of rushing water to knock an adult off his feet.

If your vehicle stalls, get out immediately and go to higher ground.

Be extra cautious at night, when it is harder to see possible flood dangers.

Review with all family members how to shut off utilities in an emergency.
References:
Photo Credit:
Fall River Scanner Transmissions
https://www.facebook.com/Fall-River-Scanner-Transmissions-172782316664338/